In a world where remote work and hybrid meetings have become the norm, Microsoft continues to innovate to meet the evolving needs of businesses and organizations. The latest addition to their lineup, the Microsoft Surface Hub 3, represents a significant step forward in the realm of hybrid meetings and collaborative workspaces. In this article, we'll delve into the key features and capabilities of the Surface Hub 3, how it enhances collaboration, and how organizations can make the most of this cutting-edge technology.
A Vision of Modern Collaboration
The Surface Hub 3 is introduced by Frank Buchholz, Director of Product Marketing for Microsoft Surface, and Sonia Dara, Chief of Staff for Windows and Surface Marketing. Their enthusiasm is palpable as they unveil this innovative all-in-one hybrid meeting and collaboration device, which is designed end-to-end by Microsoft.
One of the standout features of the Surface Hub 3 is its seamless integration with Microsoft Teams Rooms on Windows Experience. This integration ensures that users can walk into any Teams Room and enjoy a consistent and uniform experience. Whether you're in a small huddle space or a large conference room, the Surface Hub 3 adapts to your needs, thanks to features like Smart Rotation and portrait mode.
Innovative Design and Display
The Surface Hub 3's design embodies Microsoft's commitment to inclusive meetings. Its high-resolution 4K PixelSense display with an anti-glare coating ensures that content and teammates are visible even in challenging lighting conditions. The device incorporates two microphone arrays with speaker pairings, optimizing audio for portrait or landscape orientation. In larger conference rooms, the Surface Hub 3 seamlessly integrates with Teams Rooms Certified Peripherals, offering an expanded ecosystem for diverse meeting scenarios.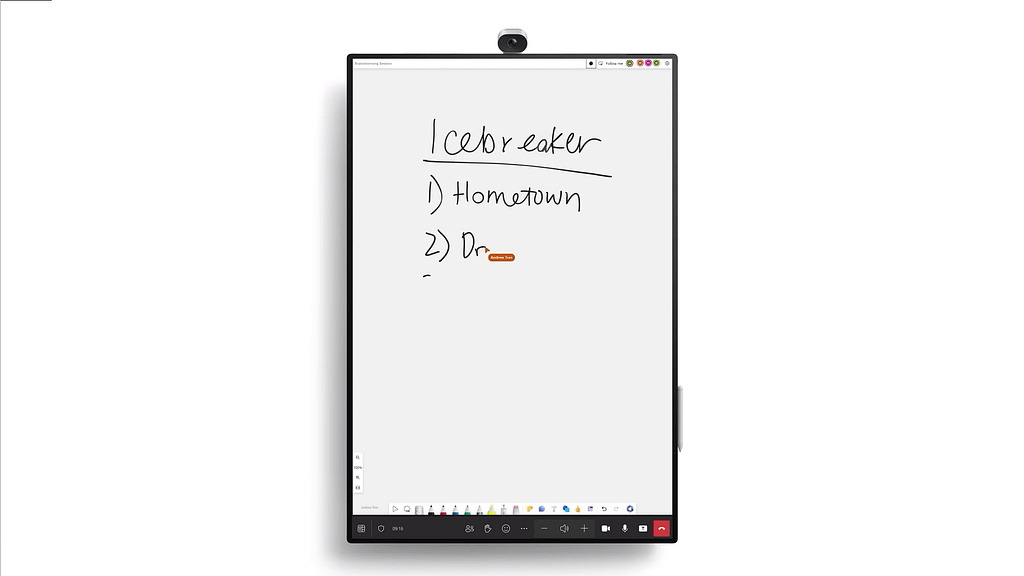 Enhanced Collaboration and Interaction
One of the standout features of the Surface Hub 3 is its support for onscreen collaboration. With support for two Surface Hub Pens simultaneously and 20 points of Multi-Touch, users can naturally interact with content during meetings. Palm rejection technology ensures that resting your hand on the screen won't interfere with your collaboration.
Frank and Sonia demonstrate how easy it is to initiate a brainstorming session using the Surface Hub 3. With a few taps, they access the whiteboard feature, enabling them to jot down ideas using the Surface Hub Pen or digital stickies. What's impressive is the ability to turn this session into a hybrid or virtual meeting, seamlessly incorporating remote colleagues, thanks to Teams Rooms on Hub.
Elevating Collaboration with AI
The Surface Hub 3 takes collaboration to the next level with the introduction of Copilot on the whiteboard. This AI-powered feature assists in generating new ideas on sticky notes, making brainstorming sessions more dynamic and productive. Copilot can generate suggestions based on existing ideas or provide entirely new inputs. It's a game-changer for creative ideation sessions, saving valuable time and enhancing teamwork.
Availability and Upgrades in Microsoft Surface Hub 3
For those eager to get their hands on the Surface Hub 3, Microsoft has made it accessible through pre-orders, with shipments expected later this year. New Surface Hub 3 purchases come equipped with the Microsoft Teams Rooms on Windows Experience, ensuring that organizations can immediately leverage the device's capabilities.
Existing Surface Hub 2S users aren't left behind. Microsoft offers a Surface Hub 3 Pack that unlocks the latest updates and technology, making it easy for organizations to upgrade their devices. This pack can be physically installed on the back of the device, ensuring a smooth transition.
For those still using Surface Hub 2S devices running Windows 10 Team Edition, Microsoft provides support until October 14th, 2025. This gives organizations ample time to consider upgrading to the new experience to align with their modern work needs.