In a world filled with tech giants, a new player has emerged, promising a fresh take on design and affordability. CMF by Nothing, an exclusive sub-brand of the tech company "Nothing," is making waves in the tech space with its distinctive aesthetic and focus on design. This article dives deep into CMF's world-exclusive product launch, including earbuds, power adapters, and a smartwatch, known as the "Watch Pro." We'll explore the brand's unique design philosophy, product offerings, and the impact it could have on the tech industry.
CMF: Color, Material, Finish!
Before delving into the product lineup, it's essential to understand CMF's core philosophy. CMF stands for Color, Material, and Finish, and it's a term that resonates deeply within design spaces. It represents the brainstorming process in design, emphasizing the importance of these elements. CMF by Nothing adopts this philosophy, aiming to bring a premium design language and aesthetic to more affordable tech products, a goal shared with its parent brand, Nothing.
Specs of CMF Products
| Product | CMF Buds Pro | CMF Watch Pro | CMF Power 65W GaN Charger |
| --- | --- | --- | --- |
| Features | – Active noise cancellation | – 1.96-inch AMOLED display | – 65W total output |
| | – 45dB reduction (ANC) | – 410×502 resolution | – 45W and 20W over USB-C ports |
| | – Long battery life | – 600+ nits peak brightness | – 45W and 18W over USB-C1 & USB-A |
| | – Real-time bass adjustment | – 58Hz display refresh rate | – 15W over USB-C2 & USB-A |
| | – LCP+PU audio drivers | – Integrated GPS navigation | – Supports multiple protocols |
| Colors/Finishes | – Dark Gray | – Dark Gray with two strap colors | – Dark Gray (India-only Orange) |
| | – Light Gray | – Polished Metallic Gray with | |
| | – Orange | Orange strap | |
| Price | £49/$49/₹3499 | £39/$39 (Dark Gray) | £39/$39/₹2999 |
| | | ₹4499 (Dark Gray, India) | |
| | | ₹4999 (Metallic Gray, India) | |
Buds Pro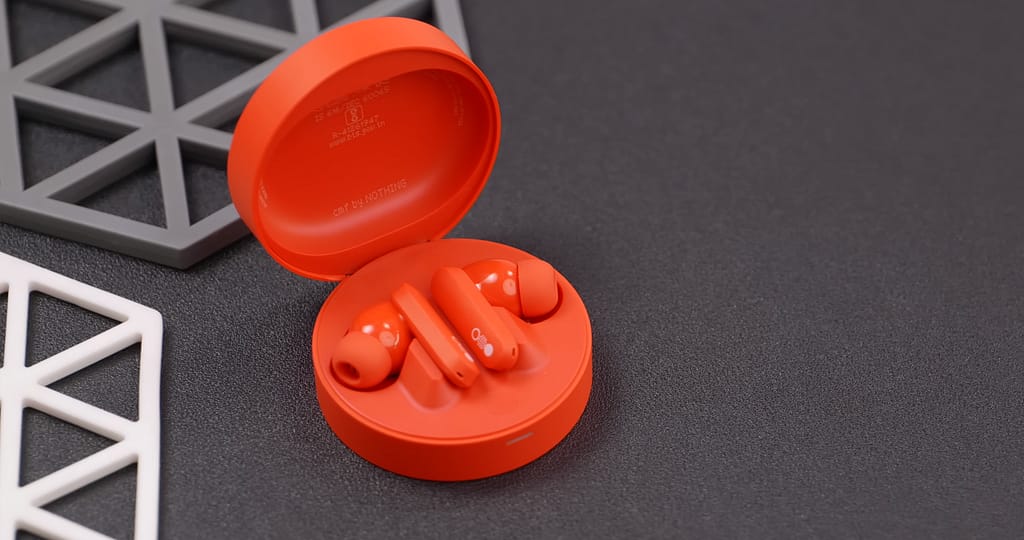 The CMF product lineup starts with the Buds Pro, a pair of earbuds that exemplify the brand's commitment to design. Available in various vibrant colors, including an eye-catching orange, these earbuds come in minimalistic packaging that highlights the product's aesthetic appeal. The design ethos is subtle, with abstract branding that doesn't overwhelm the user. The Buds Pro offers a customizable listening experience with an equalizer and built-in controls for music playback and call management. They also feature noise cancellation, making them suitable for various environments.
Affordable Luxury: Pricing that Defies Expectations
What truly sets CMF by Nothing apart is its commitment to affordability without compromising on design and quality. The Buds Pro, with its premium aesthetic and noise cancellation, comes at an astonishingly low price point of $49. This competitive pricing challenges the notion that premium design is synonymous with high costs. CMF is on a mission to make premium design accessible to a wider audience, and the Buds Pro is a testament to their success in this endeavor.
65W Gan Charger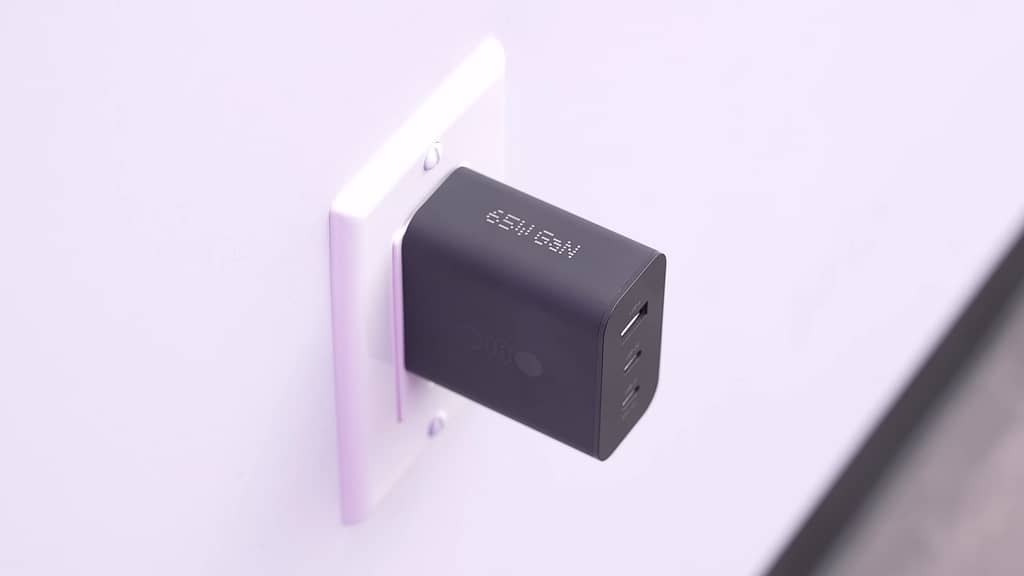 The CMF product range expands beyond earbuds to include essential accessories, such as the 65W Gan Charger. This compact yet powerful charger features Gallium Nitride (GaN) technology, known for its efficiency in converting power to electricity. With multiple ports, including USB-A and USB-C, it's versatile enough to charge smartphones and even laptops. The charger's efficiency and portability make it a game-changer for those who require fast and reliable charging on the go.
Affordable Luxury Extends to Accessories
What's remarkable about CMF's approach is that affordability extends to its accessories as well. The 65W Gan Charger, priced at $39, offers a significant boost in charging speed without breaking the bank. This aligns with CMF's overarching goal of providing high-quality tech products at accessible price points.
Watch Pro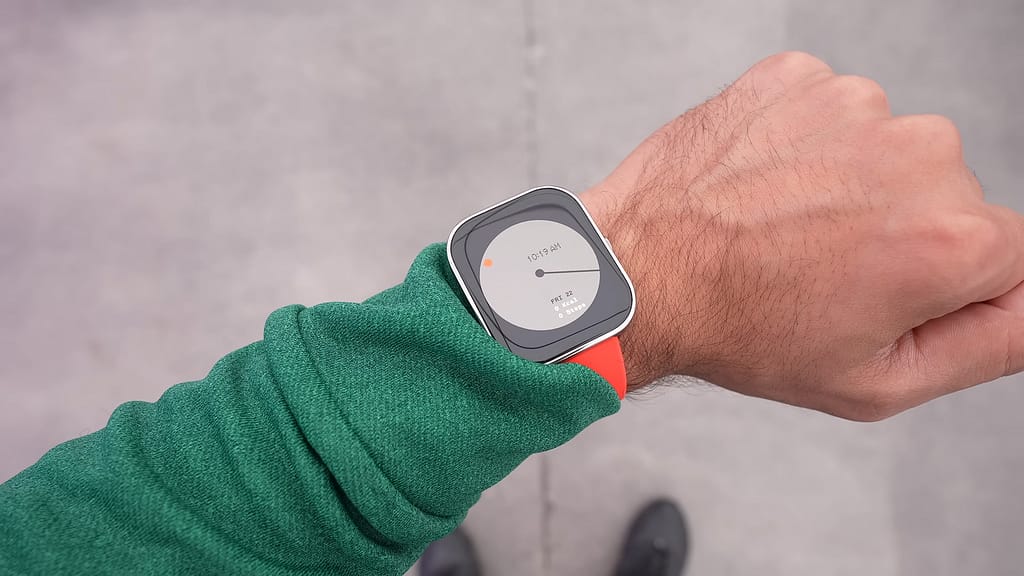 CMF's product lineup culminates with the Watch Pro, a smartwatch designed with affordability in mind. Available in various models, including an orange-banded version with a polished metallic frame, the Watch Pro embodies the brand's minimalist philosophy. With a heart rate sensor and various features like sleep tracking and phone call capabilities, it covers the essential functions of a smartwatch. The Watch Pro's user interface is straightforward and easy to navigate, making it accessible to a wide range of users.
The Power of Integration: CMF by Nothing's Cohesive Ecosystem
One of CMF by Nothing's standout features is the seamless integration of design across its product lineup. From the physical design of the products to the user interface on the Watch Pro and the cohesiveness of the smartphone application, CMF demonstrates a commitment to a unified and minimalist aesthetic. This attention to detail is what sets the brand apart, offering consumers a complete and harmonious tech ecosystem.
Affordable Luxury for the Masses
In a tech industry often associated with high price tags, CMF by Nothing challenges the status quo by delivering affordable luxury. With products like the Buds Pro, 65W Gan Charger, and WatchPro, CMF aims to make premium design accessible to a broader audience. It's not about comparing these products to their high-end counterparts; it's about understanding their value within their price range. CMF's success lies in its ability to offer a premium design experience at a fraction of the cost, opening doors for more people to enjoy tech products that prioritize aesthetics without breaking the bank.
CMF by Nothing's world-exclusive product launch showcases a refreshing approach to tech design and affordability. The brand's commitment to Color, Material, and Finish (CMF) as a guiding philosophy results in products like the Buds Pro, 65W Gan Charger, and Watch Pro, which deliver premium aesthetics at remarkably low price points. CMF's focus on cohesiveness across its ecosystem further enhances the user experience. As the tech industry continues to evolve, CMF by Nothing has carved a niche for itself, offering affordable luxury to tech enthusiasts around the world. This sub-brand of Nothing is indeed something to watch out for in the ever-expanding tech landscape.