Polar, a pioneer in the world of sports technology, has taken a significant leap forward with its latest release, the Polar Vantage V3 watch. This new device marks a milestone in the company's journey, dating back to the introduction of GPS into their watches over a decade ago. In this article, we'll take you through a comprehensive overview of the Polar Vantage V3, showcasing its features, specifications, and what sets it apart in the wearable tech market.
Key specs and details of the Polar Vantage V3
| Specification | Details |
| --- | --- |
| Release Date | Available for pre-order, in stores by October 25th. |
| Price | $599.90 / €599.90 (Solo), $649.90 / €649.90 (with H10 heart rate monitor). |
| Color Options | Night black, sky blue, and sunrise apricot. |
| Biosensing Technology | Utilizes Polar Elixir for measuring cardiovascular activity, nervous system, body temperature. |
| Data Measurements | Utilizes Polar Elixir for measuring cardiovascular activity, nervous system, and body temperature. |
| Display | AMOLED touchscreen display. |
| GPS | Dual-frequency GPS for location accuracy. |
| Offline Maps | Allows navigation when off the beaten path. |
| CPU Performance | 129 percent faster CPU compared to the Vantage V2, enabling new features. |
| Battery Life | Up to 140 hours of training in power-saving mode, up to eight days of display time. |
| Wristband Compatibility | Works with standard wristbands without an adapter. |
| Market Focus | Polar's fitness watches target serious athletes but offer more accessible models. |
The Polar Vantage V3 is a feature-rich fitness watch with an emphasis on biosensing technology, improved processing power, and offline maps for outdoor activities. It caters to both serious athletes and fitness enthusiasts and comes in a variety of colors. The watch's battery life and CPU performance have been enhanced, and it offers compatibility with standard wristbands.
1. Pricing and Availability
The Polar Vantage V3 is priced at $599 and is set to start shipping on October 25th. A comprehensive review will be available around that time, diving into the new GPS and heart rate functionalities. If you're eager to stay updated, don't forget to subscribe to the channel providing the review.
2. Offline Mapping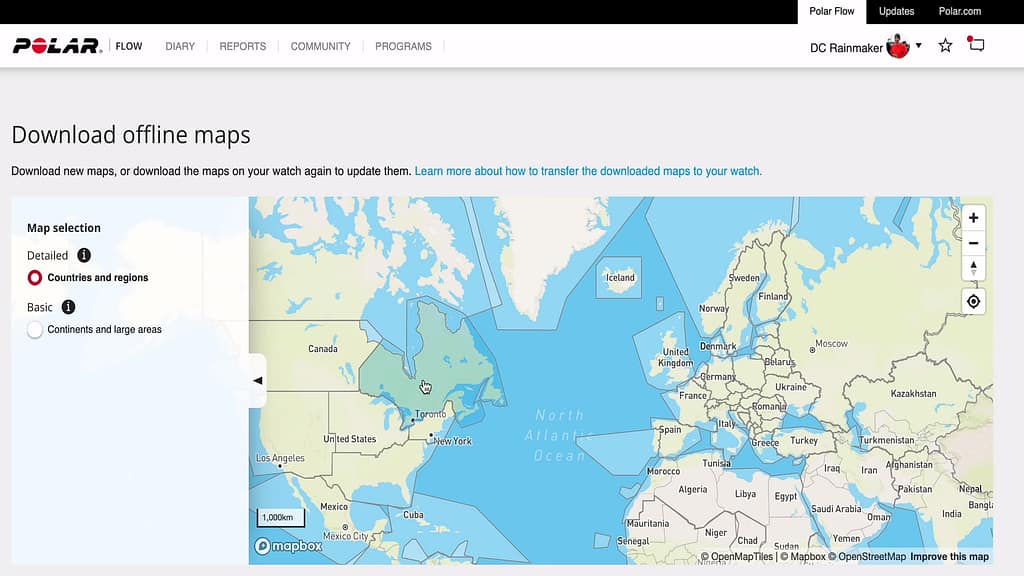 One of the standout features of the Polar Vantage V3 is its offline mapping capability. For the first time in a Polar wearable, you can download maps to your watch for free. This includes topographic details, offering a more contextual awareness of your surroundings. The watch comes with default basic maps for North America and Europe, but you can switch to detailed maps by connecting your watch to a computer and downloading the desired section.
3. GPS and Routing
Polar has integrated a new multiband GPS chipset in the Vantage V3 to improve GPS accuracy. While the accuracy is yet to be tested thoroughly due to the beta firmware, the watch supports routing with Komoot. However, it's important to note that route planning must be done in advance, as there's no on-demand routing. The device also lacks automatic recalculation if you deviate from your planned route.
4. AMOLED Display
The Polar Vantage V3 sports a vibrant AMOLED display, measuring 1.39 inches and boasting a peak brightness of 1,000 nits. This high brightness makes it easily readable in bright conditions. Gone are the days of dim displays in bright sunlight, thanks to this impressive screen.
5. Elixir Biosensing Technology
Under the hood, Polar introduces the Elixir biosensing technology, which includes several components. The Gen 4 Optical heart rate sensor promises improved accuracy and even features ECG functionality. Additionally, the watch incorporates a blood oxygenation level sensor (SpO2) and a skin temperature sensor, which measures your skin temperature during sleep. While the watch doesn't provide exact skin temperature data, it does show deviations from your baseline.
6. ECG Functionality
The Vantage V3 includes ECG functionality, allowing you to record your heart's electrical activity. However, there's a significant caveat here – this watch is not a certified medical device. Unlike other major brands like Apple, Samsung, and Garmin, Polar's ECG function lacks certification. It also doesn't offer abnormal rhythm detection, which is a key feature in certified medical-grade ECG devices. This may be a potential point of concern for users looking for a comprehensive ECG experience.
7. Built-in Flashlight
For added convenience, the Polar Vantage V3 features a built-in flashlight. This function utilizes the display to emit a powerful light, making it handy in various situations. However, the author does suggest that Polar could enhance this feature by adding brightness levels and a red light option.
8. Impressive Battery Life
The Vantage V3 offers a range of battery life options depending on your usage. In GPS tracking mode, it provides up to 140 hours of battery life, with shorter durations offering higher accuracy. For everyday wear with gesture-based activation, the watch can last up to eight days, while always-on mode provides up to five days of use. These battery life figures are in line with other watches in its class.
9. Enhanced Responsiveness
Polar has upped its game by increasing the processor's performance by 129%. This boost in processing power translates to a significantly improved user interface responsiveness. It's refreshing to see a company deliver on its promise of a more responsive user experience, and Polar has certainly achieved this with the Vantage V3.
10. Standard 22mm Straps
Previously, users of the Polar Vantage V series needed an adapter for their watch straps. With the Vantage V3, this is no longer necessary. The watch now supports standard 22 mm straps, giving users the freedom to choose from a wide range of options available in the market.
11. USB-C Charging
Polar has also embraced modern technology with a USB-C charging cable for the part that connects to your computer. This standardization is a positive step forward, making it easier to charge the device without needing a proprietary cable.
12. Waterproof Design
The Vantage V3 is water-resistant up to 50 meters, making it suitable for various water activities. Whether you're swimming, snorkeling, or simply caught in the rain, this watch can handle it without a hitch.
13. Durable Display
The display of the Polar Vantage V3 is protected by Gorilla Glass 3, ensuring it can withstand the rigors of everyday use. Its slightly curved edge adds an extra layer of protection, though using a screen protector is a matter of personal preference.
14. Future Updates
Polar suggests that this release is just the beginning of their mapping journey. While the device's mapping capabilities are promising, Polar plans to evolve and enhance these features over time. This commitment to ongoing improvement is an encouraging sign for users who want to see their investment grow.
15. Market Position
The Polar Vantage V3 enters a competitive market for sports and fitness wearables, with established players like Garmin, Apple, and Samsung. Polar's unique features, such as offline mapping and biosensing technology, set it apart. However, it faces challenges in the ECG functionality, which is not certified as a medical device and lacks abnormal rhythm detection.
16. What's Next?
Around October 25th, a comprehensive review of the Polar Vantage V3 will be available. This in-depth analysis will delve into its accuracy, GPS performance, and day-to-day use, providing a clearer picture of the device's capabilities.
The Polar Vantage V3 introduces exciting new features and improvements in various aspects. It offers a bright AMOLED display, impressive battery life, and a powerful flashlight, making it a versatile companion for sports and daily activities. However, the ECG functionality's lack of certification and the absence of abnormal rhythm detection may leave some users wanting more in the medical tracking department. Nonetheless, Polar's commitment to enhancing its mapping capabilities and delivering on its promises of improved performance makes the Vantage V3 a noteworthy addition to the wearable tech market.