The Google Pixel Watch 2 has arrived, promising a range of new features and improvements over its predecessor. This smartwatch comes equipped with a new heart rate sensor, stress detection capabilities, enhanced safety features, a more efficient processor, and improved battery life. In this article, we'll delve into the key aspects of the Pixel Watch 2, its design, wellness tracking capabilities, and whether it's a worthy competitor in the world of smartwatches.
In the competitive landscape of smartwatches, Google is still relatively new, especially when compared to giants like Samsung and Apple. Last year marked Google's entry into the smartwatch market with the first-generation Pixel Watch. The initial release left a positive impression on many, with some reviewers, including myself, considering it a commendable first attempt. However, with the Pixel Watch 2, there were high expectations and hopes of addressing the shortcomings of its predecessor, particularly to justify its $350 price tag.
Design Considerations
The Pixel Watch 2 retains the 41mm size from the first generation, which might be a sticking point for users with larger wrists. A significant portion of the display remains unused, which can be frustrating for those who prefer a larger, more informative screen. While the design is minimalistic and pleasing, it's somewhat disappointing that Google didn't offer a larger size option for those who desire it. However, it's worth noting that some subtle changes have been made, including a shift to 100% recycled titanium for the chassis, more durable glass, and new band options.
Pixel Watch 2 Features
The Pixel Watch 2 comes with several new features that enhance its appeal. It includes automatic workout-tracking, heart rate zones, and stress detection, making it a more comprehensive wellness tracker. One standout feature is "safety check," which allows users to set activity timers and notify emergency contacts if they don't check in within a specified time frame. This feature enhances personal safety and offers peace of mind.
Wellness Tracking:
Wellness tracking is a significant focus for the Pixel Watch 2. It includes a skin temperature reader and continuous electrodermal activity reading, similar to the Fitbit Sense 2. These features help users monitor their stress levels and mood shifts. Fitbit premium membership is required to access the full potential of these features, offering deep insights into health data and emotional well-being.
Workout Enhancements:
The Pixel Watch 2 brings standard workout conveniences like heart rate zone monitoring and multipath heart rate sensors. While the improvement in heart rate accuracy is welcome, some may argue that it was already commendable in the first-generation model. The watch's battery life has improved, making it more suitable for extended workouts with continuous GPS use. It's now possible to leave the always-on display enabled without worrying about running out of battery.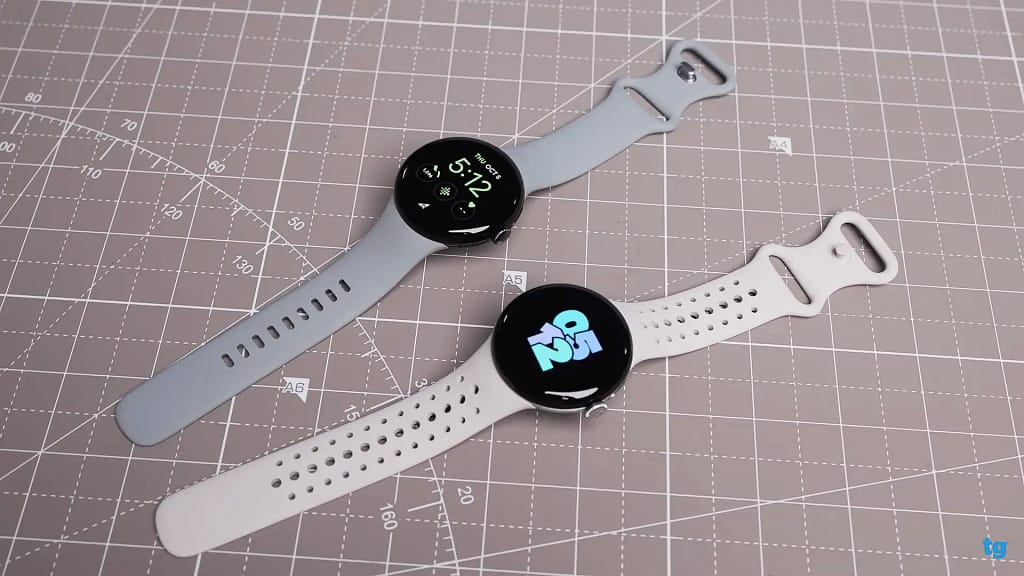 The Pixel Watch 2 introduces the ability to automatically detect and track certain activities, addressing the issue of users forgetting to start a workout manually. Additionally, it includes pace training for running, a feature that wasn't present in the first generation.
Battery Life:
One of the key concerns with the original Pixel Watch was its battery life, especially during workouts. The Pixel Watch 2 shows a substantial improvement in this aspect, with a 10% decrease in battery life per hour during continuous GPS use, making it more reliable for extended workouts.
Future Prospects:
The Pixel Watch 2 represents a step toward creating a solid presence in the smartwatch market. While it addresses several shortcomings of its predecessor and offers an enhanced wellness tracking experience, some design limitations, like size and bezel concerns, remain unaddressed. However, it's evident that Google is positioning this model as a stepping stone to attract first-generation users and may have bigger plans for the future. It's possible that next year's iteration will compete more directly with offerings from Samsung and Apple.
The Google Pixel Watch 2 is a commendable update over its predecessor, offering enhanced wellness tracking, automatic activity detection, and improved battery life. While it doesn't fully address design limitations, it's clear that Google is working toward solidifying its position in the smartwatch market. With future iterations, we may see a Pixel Watch that can compete with the best in the industry. In the meantime, the Pixel Watch 2 is a step toward creating a smartwatch that caters to users' health and safety needs.