In the fast-paced world of smartphone technology, camera improvements have become a battleground for manufacturers. Apple's iPhone 15 Pro Max and Samsung's Galaxy S23 Ultra are two contenders vying for supremacy in the camera department. The article will provide a camera comparison review and provides insights into which of these flagship devices has a better camera.
Here's the difference between the iPhone 15 Pro Max and the Galaxy S23 Ultra:
| Feature | iPhone 15 Pro Max | Galaxy S23 Ultra |
| --- | --- | --- |
| Display Size | 6.7-inch | 6.8-inch |
| Processor | 3nm Apple A17 Pro | 4nm Qualcomm Snapdragon 8 Gen 2 |
| Main Camera Sensor | 48MP | 200MP |
| Optical Zoom Capability | 5.0X | 3X, 10X |
| S Pen Stylus Support | Not available | Supported |
| Battery Capacity | 4,422mAh | 5,000mAh |
| Charging Speed | 20W | 45W |
| Biometric Authentication | Face ID | Ultrasonic In-Screen Fingerprint Scanner |
This table summarizes the key differences between the iPhone 15 Pro Max and the Samsung Galaxy S23 Ultra.
Front Cameras: A Focus on Skin Tones
The review begins by discussing the front cameras of both phones. While acknowledging that the iPhone has not shown significant improvement in this area over the years, the reviewer points out Apple's newfound focus on skin tones. The iPhone's ability to capture skin tones accurately becomes evident when compared side by side with the Samsung camera. It's the small details, like the color of clothing and hair, where the iPhone shines. However, the reviewer notes that Samsung's selfie camera offers more natural background blur and added sharpness, making it ideal for intimate shots.
Video Quality: iPhone Takes the Lead
For vlogging and video enthusiasts, the iPhone takes the lead. The reviewer explains that the iPhone offers better video quality on the selfie camera due to its superior high dynamic range (HDR) and resistance to grain in low-light conditions. The Samsung camera has improved over the years but still falls slightly short in terms of video quality.
Zooming In: A Close Match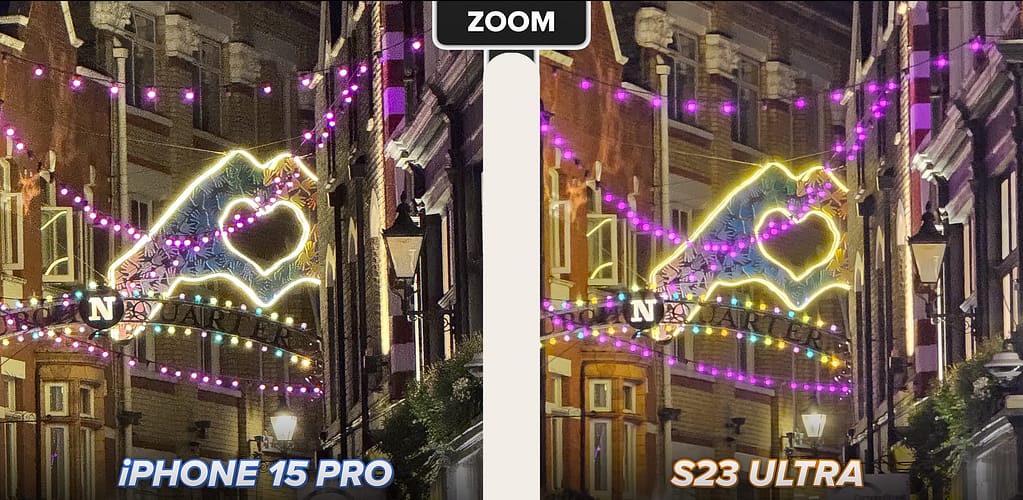 One of the notable improvements in the iPhone 15 Pro Max is its zoom capability. The iPhone now boasts a 5x optical zoom lens, a significant upgrade from its previous 3x zoom. Samsung, on the other hand, offers both 3x and 10x optical zoom lenses. The comparison reveals that the two cameras perform differently at various zoom levels, with each having its strengths. However, when it comes to video zoom, the iPhone consistently outperforms Samsung, thanks to its high-quality 5x lens and effective noise reduction.
Camera Apps: A Balance Between Fun and Practicality
The camera app experience is also discussed in the review. Samsung's camera app is praised for its fun features like Food Mode and Single Take, which offer creative options for users. However, it's noted that Samsung's camera app has some drawbacks, including shutter lag and a clunky transition between modes. On the other hand, the iPhone's camera app is considered more practical and user-friendly, despite some occasional fiddliness. The reviewer appreciates the new Action Button feature in the iPhone but mentions that it's not significantly faster than Samsung's double-tap method.
Audio Quality: A Close Match
Audio quality is another aspect that comes under scrutiny. Both phones excel in picking up sound from various directions, but as background noise increases, differences become noticeable. The iPhone captures more background noise but maintains the natural richness of the voice. In contrast, Samsung reduces background noise but sacrifices some lower tones in the process. There's no clear winner in this category, as both approaches have their merits.
Portrait Mode: iPhone's Double Perk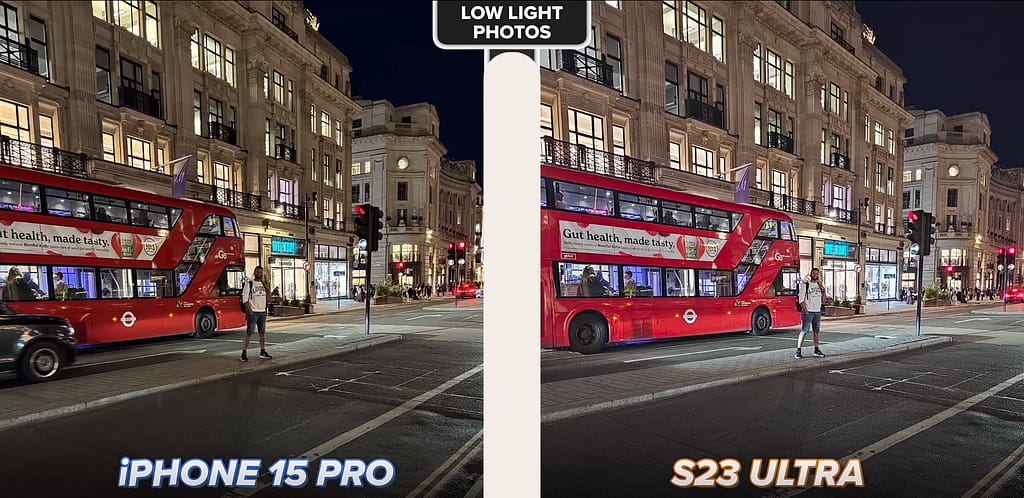 Portrait mode, a popular feature for enhancing the quality of portrait shots, is examined in detail. The iPhone 15 Pro Max introduces two significant improvements in this regard. Firstly, it allows users to apply portrait mode after taking a photo, giving more flexibility in post-processing. Secondly, when taking portraits with the main camera, the iPhone captures images at a higher 24-megapixel resolution, surpassing Samsung's 12-megapixel portraits. While Samsung's portraits are praised for their punchiness and strong edge detection, the higher resolution of iPhone portraits becomes a decisive advantage.
Special Features: A Draw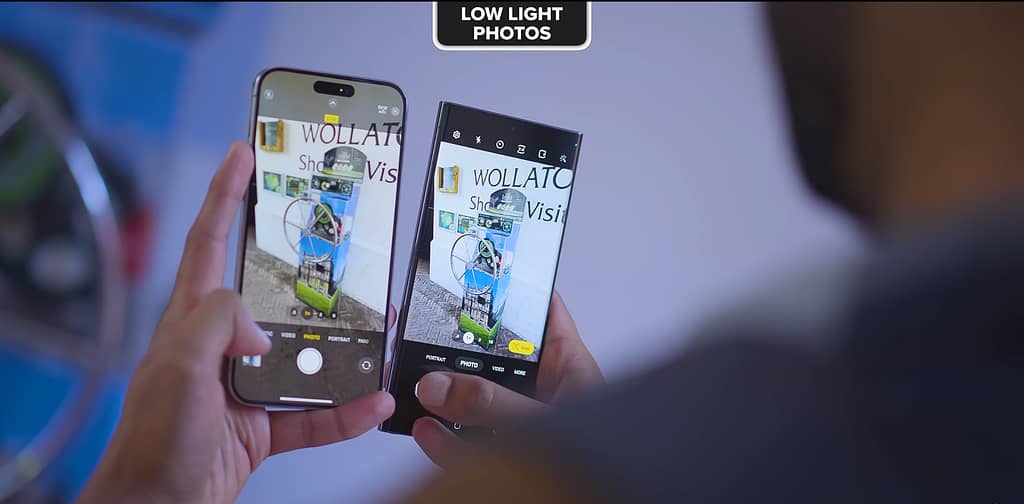 The review briefly covers special camera features such as cinematic mode, slow-motion, and macro mode. Both phones have made notable progress in these areas, with cinematic mode improving over time. Slow-motion capabilities are discussed, with Samsung having a slight edge due to its 960 FPS super slow-mo feature. In terms of macro mode, both phones offer competent performance, with slight variations in style. While Samsung takes the lead in slow-motion, the overall category is considered a draw.
Video Quality: iPhone's Four Winning Factors
Video quality is a crucial category, and it has historically been an area of strength for the iPhone. However, with the Galaxy S23 Ultra, Samsung has made significant improvements. The review highlights four factors that favor the iPhone: higher detail, consistent skin tones, smoother action mode, and less grain in low-light conditions. Despite Samsung's impressive video HDR capabilities, the iPhone's overall video quality remains superior. However, Samsung's camera HDR has made significant strides, particularly in challenging lighting scenarios.
Daytime Photos: iPhone's Megapixel Advantage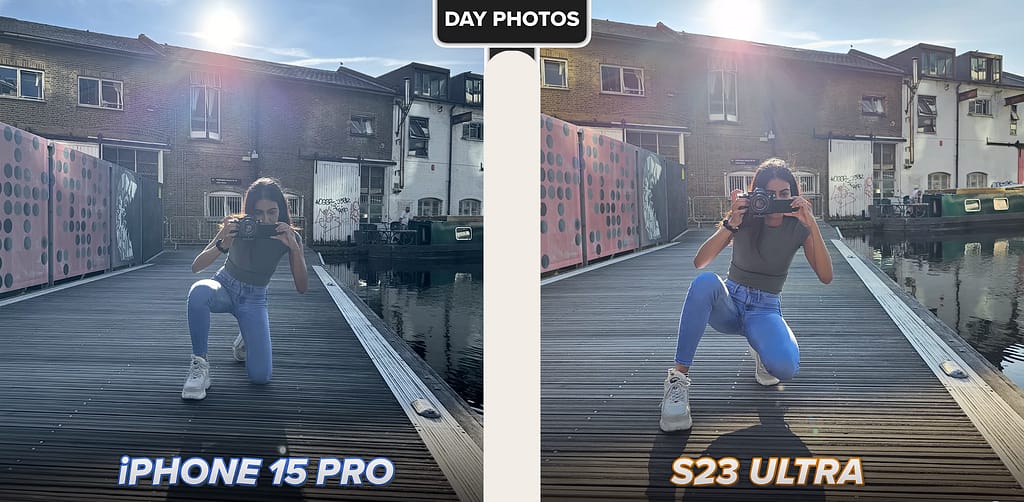 Daytime photography is arguably the most critical category for most users, and here, the iPhone 15 Pro Max shines. While Samsung's camera offers a vibrant and poppy style, the iPhone's 24-megapixel main camera surpasses it in terms of detail. The review explains that the higher resolution allows users to zoom into photos with noticeable differences. While Samsung has a 200-megapixel camera mode, it comes with various limitations and is not practical for most users. The iPhone's default 24-megapixel mode offers no compromises, making it a clear advantage during daytime photography.
Which one has a better camera?
In conclusion, the iPhone 15 Pro Max emerges as the winner in this camera battle, excelling in various categories such as daytime photography, video quality, and portrait mode. However, it's essential to consider individual preferences and priorities when choosing a smartphone, as both the iPhone and Samsung Galaxy S23 Ultra offer outstanding camera capabilities. Ultimately, the choice between these flagship devices will depend on the specific needs and preferences of the user.